Day 9. 31/08
Alwin went his own way but before we set out we have to buy compulsory insurance for Albania. There is a small shed outside the port looking like container converted into the office. An agent sits behind the ramshackle desk and laboriously write out insurances. Everybody standing in the long queue is confused. This is because not everyone is prepared to pay only cash and in euros. Including us, because we planned to withdraw the local currency from an ATM or pay by card.
This is how we meet Emanuel – a resident of England who came to visit his father. We hope that Emanuel would show us the nearest ATM but instead of this, he offers us a loan! And it is not a small amount – 100 euros. Wow, blessed with such trust, we feel a bit uncomfortable. But Emanuel is such a kind person that he offers us help in every matter during our trip around Albania! And from the beginning, we realise that unfriendly Albanians who want to twist the knife in your back is only an old myth. Later, we just reassure that this is untruth.
When we finally manage to get the necessary documents, we already have half of a day delay. Immediately we head south towards the famous Albanian Riviera. It is definitely worth the ride! A poor air clarity in such a bright sun and slippery tarmac do not bother us and we get fascinated with switchback curving over jagged cliffs and the beautiful view of the ocean stretching to the horizon. We are impressed by the Albanian mountains and apparently, the best is yet to come! I wonder how we will manage to ride on gravel roads in the mountains…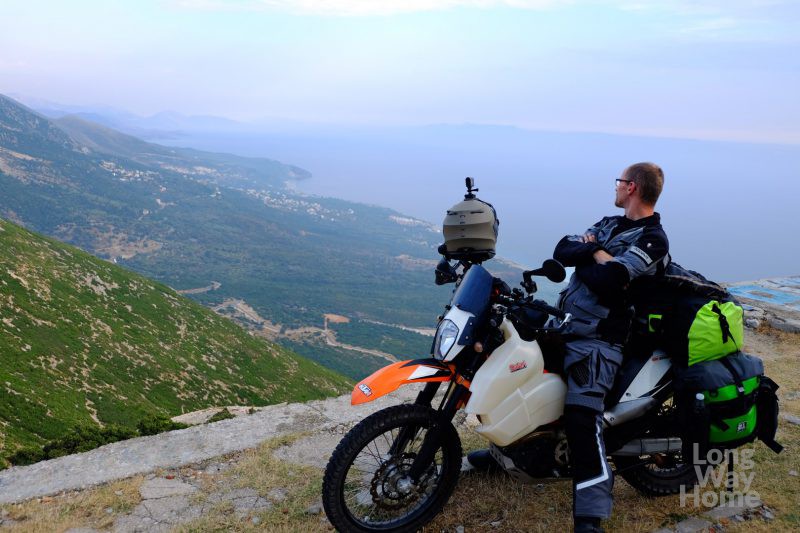 Due to such a long delay in the port, we do not arrive on time to the planned accommodation on a wild beach, what leads us to a lively discussion about the difference in expectations. At last, we pitch a tent at the nearby campsite next to the beach. Not really wild one, but still a beach. Fortunately, we still have an Italian wine that not only relieves tension but also puts us in great moods. We add a touch of romantic swimming in the sea to the accompaniment of the setting sun.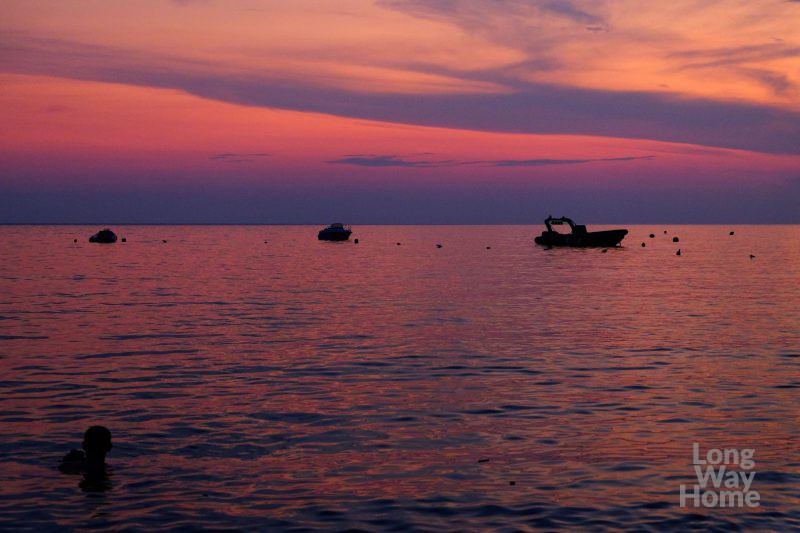 Day 10. 01/09
We travel further south to the Ksamil peninsula called the Albanian Caribbean. We want to compensate yesterday's unfulfilled expectations and spend time at the crystal sea, maybe not all night long, but at least a few hours. We find an almost intimate beach, but believe me, it is a real challenge because the beaches in this area are small and so beautiful that people come from everywhere. Especially Albanians wanting to spend Sunday, a day off, in the fresh air. Our beach is stony, the water is almost transparent and the sun shines high above our heads. We would not mind a bit of shade in such heat, but it is still beautiful! We need that moment of rest and relaxation. Blissfulness and happiness come with every wave of the sea.
The famous karst spring, Syri and Kalter (al. Blue Eye) is our next goal. When we get there, it turns out that someone charges for entrance, although no guidebook or blog mentions it. There is also no entrance gate, nor the price list. Just in a place where the road narrows, the guy stands blocking the passage and lets vehicles go after paying a fee. The fact of paying is not a problem for us, but we do not follow dishonest businesses. Besides, when we arrive, the "cashier" first looks at our number plates and after that say what the price is. Probably he estimated how rich is the country we come from. Frustrated we give up, but we go to the Llixhat e Benjes thermal springs.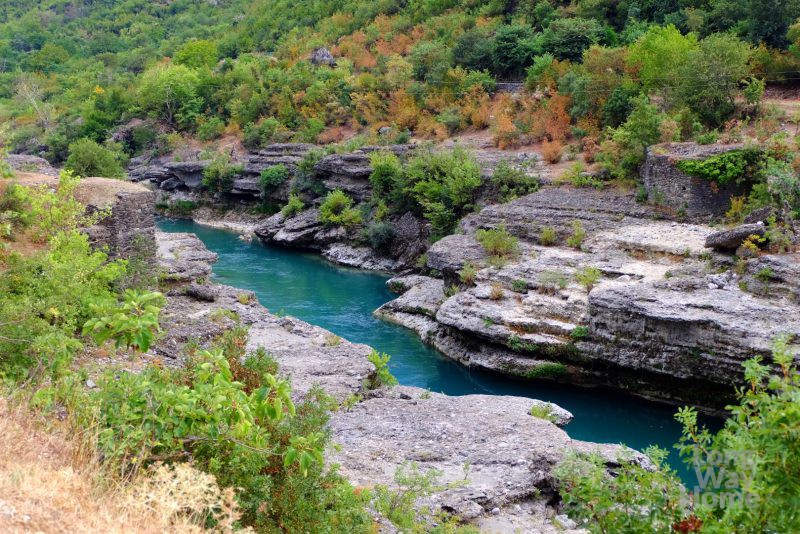 In the middle of the day, we have a short break for refuelling, checking the news via Wi-Fi and a quick dinner. One of the petrol station staff speaks English very well! He asks about many things related to England but also tells us a lot about Albanians. I really appreciate his honesty and lack of embarrassment that he does not know something and simply asks. An interesting fact for us is that due to the neighbouring boundaries, residents of south learn Greek language and the citizens of the central part of the country speak Italian. Many Albanians emigrated to Italy as soon as the borders were opened to them. We also find out why we do not know any Albanian in UK! Apparently, it is almost impossible to get to the island, because the British government requires an unbelievable amount of money from them in order to be allowed to enter. In the rest of Europe they do not have such requirements and problems to get a tourist visa.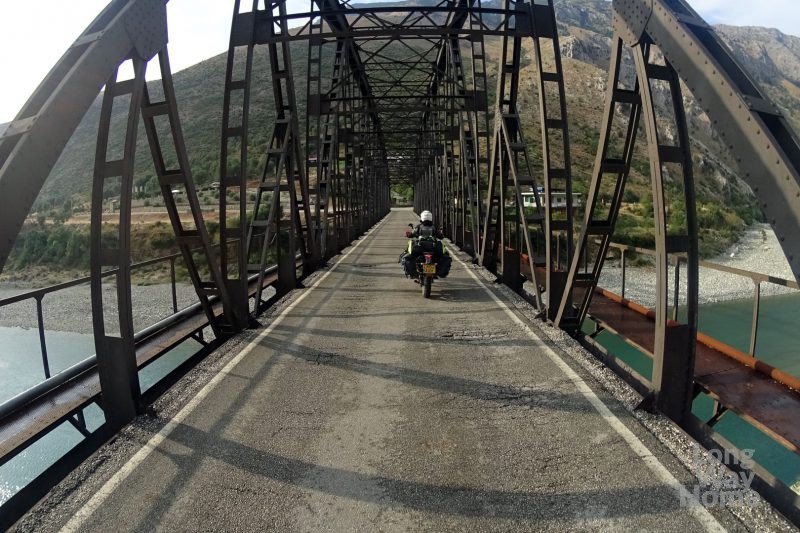 Lengarica Canyon stretches for 4 kilometres in length and rises up to 100 metres. Rafting is organised in spring, then the water level decreases in late summer and you can walk on its bottom for several hours. You can not pass with dry feet – sometimes the mud sucks, sometimes the water reaches the knees, but not higher. There are stone-built thermal pools at the mouth of the canyon, right next to the old stone Ottoman Judges Bridge (al. Ura e Kadiut). A strong smell of sulphur floats in the air. The waters contain sulphates, sodium chloride and calcium that help with the stomach, joint and rheumatism pains, and the mud perfectly alleviates skin problems. Evening falls so the pools become empty and are all for us! I would not call them hot springs, but the water is really warm. It reaches a temperature of 30 ° C, so we are happy to indulge in a moment of relaxation. We have only forgotten about the healing mud pack!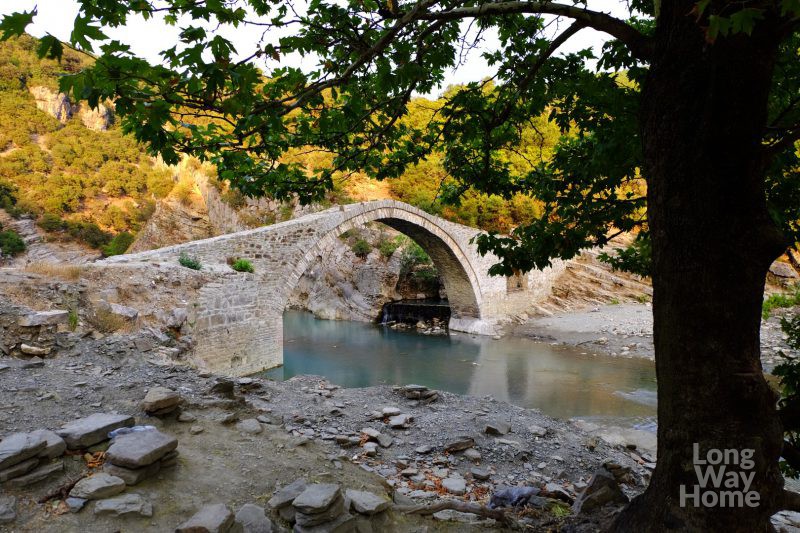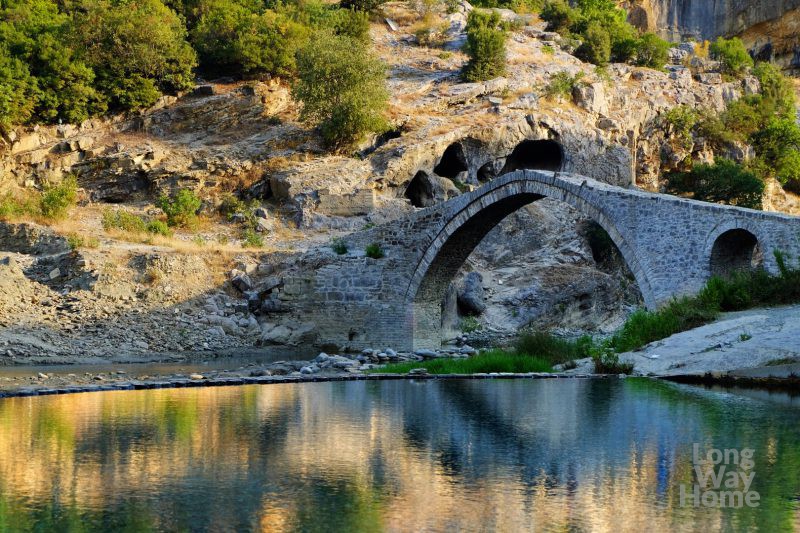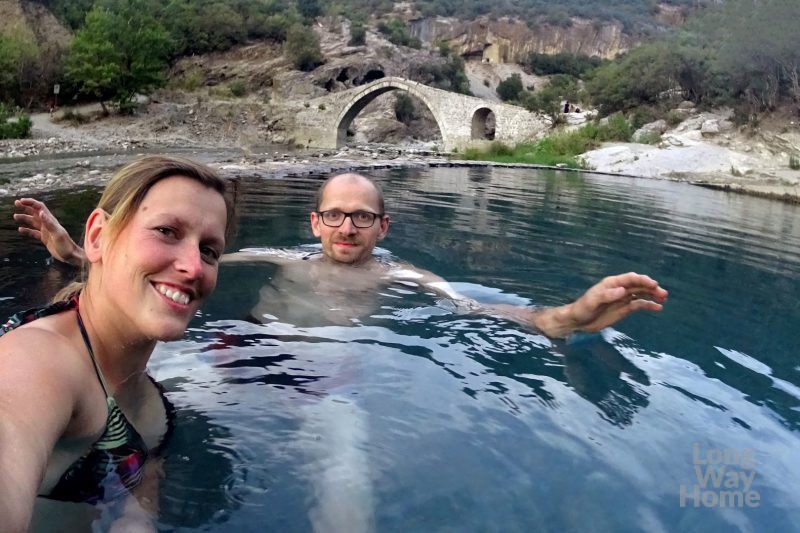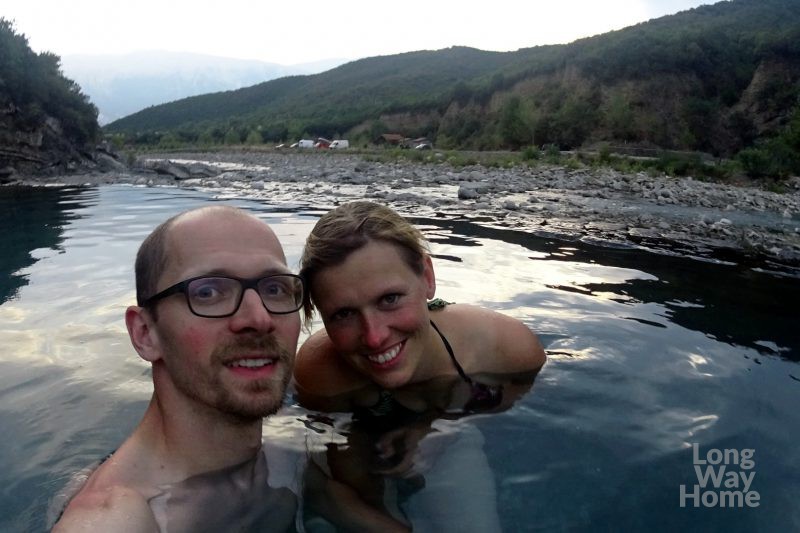 After a pleasant bath, it is time to prepare dinner and pitch a tent. There are benches and tables in our neighbourhood, so we cook and eat rice with apples in comfortable conditions. Apart from us, nobody pitches a tent, but quite a lot of campers park by the river. We are extremely far from any light source, so the sky sparkles with a billion stars. Such a view encourages Łukasz to play with photography. Look at the effects!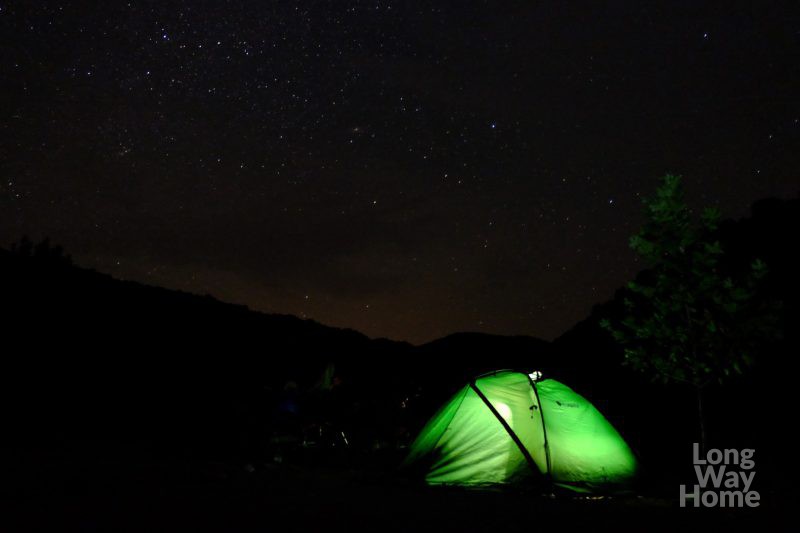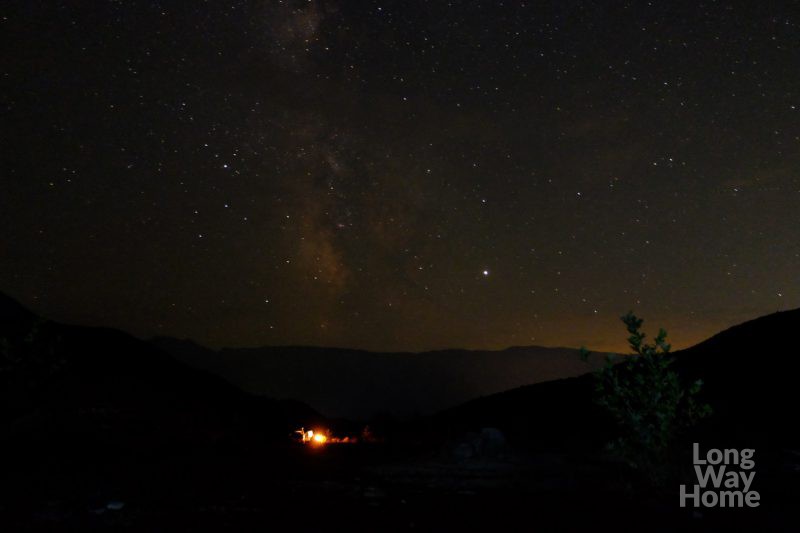 Around 3 am local people come to the party (again?!). They park a car next to our tent, turn on the music, have loud conversations, throw empty beer cans and smoke cigarettes. It all lasts about half an hour, then they leave and the calming murmur of the creek came back and can be heard again.
Day 11. 02/09
We head north towards Berat. Navigation leads us a faster route, but earlier, just before Piskovë we notice an intriguing turn to a gravel road. According to the map, the road is winding between hills, so the view may be interesting for us. OK, we turn into it and we will see what comes next. And this is a very good decision! Although at the beginning it does not look rosy for me, because the gravel turns into a typical mountain route, where trekkers go in solid hiking boots. Loose boulders, large stones, strong and rocky climbs and descents with sharp turns make the ride hard-core. But Łukasz makes me aware that this route is not a big challenge for advanced riders. However, the level of difficulty increases gradually, so I do not feel it so significantly. Well, when you go, just keep going!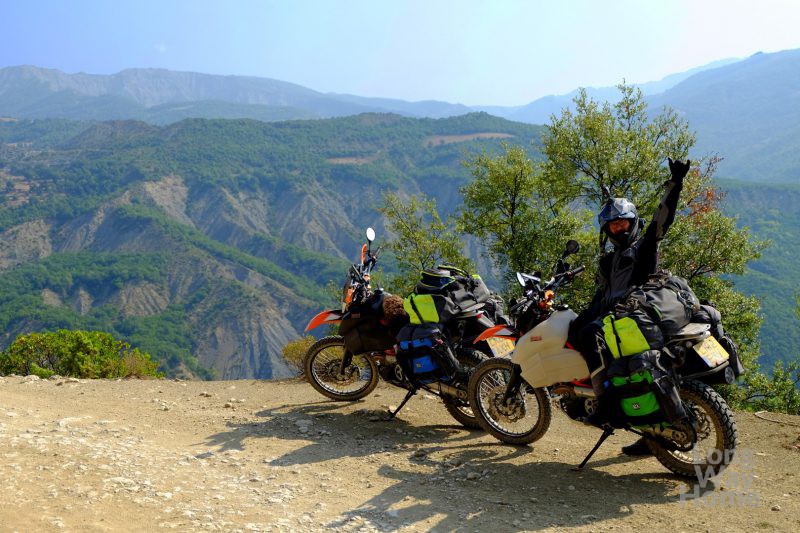 The whole route leads through the mountains, where we pass only a few buildings and one village cut off from the rest of the world. Sometimes the road narrows so much that one car would have a problem to cross. Well, probably that is why most locals use four-wheel-drive cars. But sometimes, we also can see a dozen years old, typical East European "Polonez" or "Lada" in these most distant places!
We sweat to death, strain our muscles to the limit fighting against unevenness, we clench our teeth and our faces express full concentration. And after overcoming the route, great satisfaction and fulfilment come.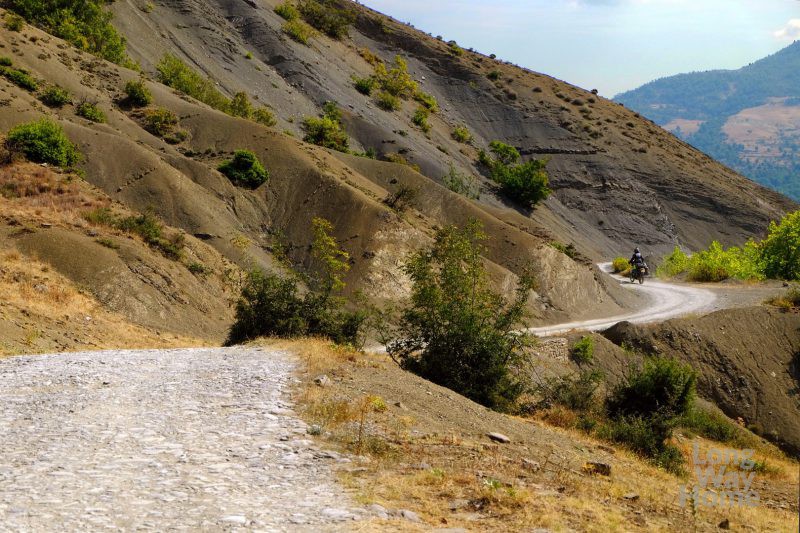 Much later, we find out that we rode one of the most dangerous roads in the country. The biggest canyon called the Colorado of Albania and dated from between 2 to 3 million years ago. If you are eager for similar adventure and want to follow our tracks, choose the route between Piskovë and Çorovodë.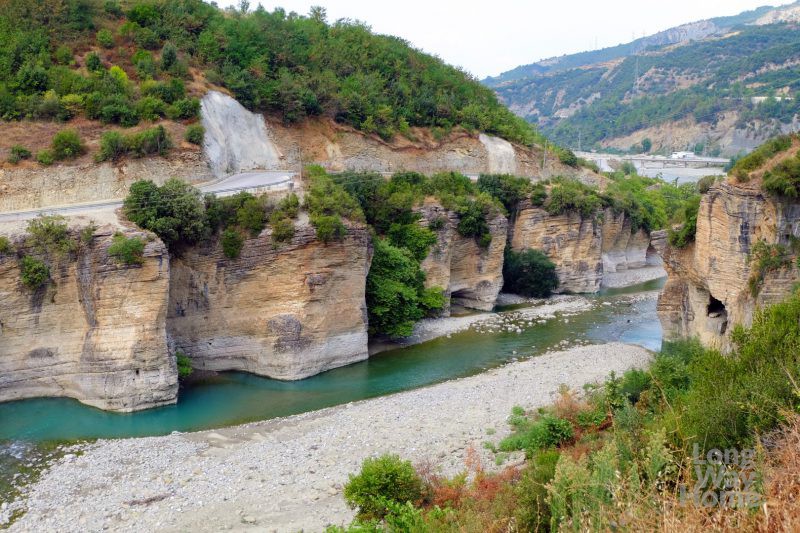 At the end of the mountain part, when we almost descend to the height from which we started, suddenly from around the bend the campervan emerge. The first and only vehicle encountered on our route! A group of people pour out of it, a German family of six, and they try to discern the situation on the way forward. Their car is not even four-wheel drive, the tires are designed only for tarmac. They did not expect such a difficult road and wonder how it looks farther. They found themselves in a complicated situation, because they have no chance to turn back (the road is only one car wide), and we strongly advise them against driving further. Łukasz describes the route, but the final decision is theirs.
When we say goodbye and move on (with my trivial bike drop when passing a parked campervan), the road becomes easier. Well, it is evenly laid gravel without any defects on the way or dangerously protruding stones. And now we can see that since they found this section difficult, it will only get worse for them! I hope they do not go up. Unfortunately, we did not exchange numbers and I wonder what decision they made and how they managed to get out. I hope their adventure has a happy end.
We go further through the mountains, on still winding but tarmac road. The big cloud grows in front of us and becomes almost black, the sky lits by lightning again and again. The only thing we can do is to put on waterproof clothes and continue the journey. Ultimately our forecasts were wrong. Clouds still hang oppressively, but I believe we have escaped from the storm. Phew, we take suits off quickly because we start baking in it!
Riding through Berat, we realise that the Italians' chaotic driving style was only an introduction and preparation for Albania. Indeed, people have cars relatively recently. Without any warning cars stop on the road or turn around at any time. Motorcyclists also have their own rules and are not obliged to wear a helmet, not to mention motorcycle clothing. They also have no problems with driving the wrong side of a road. They believe that if they ride closer to the curb, they do not pose a threat to others and themselves. We pass a lot of mopeds with trailers in the front instead of the handlebar – a clever way to transport bulky items like a washing machine. Also, we often see more passengers on motorcycles than it is allowed.
We plan to sleep in the mountains with the beautiful scenery of the capital and Krujës. We hope to get there early to enjoy the view for the rest of the evening. And again our plan does not go like we would like to.
In the previous town Fushë-Kruja, the main street was closed and because of the diversion, the traffic becomes a nightmare and we lose a lot of time. When we finally get out of it, a strong wind picks up in an instant. All the leaves, rubbish and even larger items fly in the air, people walking against the wind struggle to avoid falling over, tree branches dangerously bend and it gets completely dark. A powerful storm is coming. We have to get to the mountain outside the city and pitch a tent before the storm rips for good. We hold our heads up to look at our destination and… it is the darkest place! We have nowhere to escape, so we go straight to the centre of the storm. Lightnings flash above our heads but it does not rain yet. We climb up the switchback and suddenly the rain comes like a waterfall!
Literally a few seconds before we manage to park the motorcycles on the side of the road, get off them and hide under the dense tree. We do not notice that this tree is right next to the gate to a building. And there two people stand under the roof and wave at us to join them! We are so lucky!
And so by coincidence (do coincidences exist?), we landed in Gjurma e Sari Salltëkut – a place of pilgrimage for all Albanians regardless of faith. They come here to light a candle and pray. A country where the communist dictator strived for 100% atheism for decades, became the world capital of tolerance. Muslims who are the majority in Albania (Sunni, Shiites, Bektashites) live in harmony with Christians (Catholics, Orthodox) and moreover, they support each other.
Men encourage us to look inside. It is like a small chapel (al. Teqe) however it is not a Christian but belongs to Muslim brotherhood, where the portrait of Mohammed hangs on the wall and people pray to it. An act that is the death penalty among Sunnis and Shiites! Also, there is a recess outside in the wall where believers burn candles praying for prosperity and God's gifts for themselves and families, as well as commemorating the founders of their religion. We conclude that we meet the followers of the syncretic faith – Bektasists, whose world centre is in Tirana. Bektasism is a Sufi movement professing mystical and apolitical Islam. In practice, it has closer to Christianity because it does not allow Sharia, Jihad or Ramadan. Instead, it has a confession, forgiveness for sin, the sign of the cross, baptism and celibacy. Bektasists drink alcohol and eat pork, and women are equal to men.
It is said we should not start religious topics with people who we just get to know. Here, the place provokes us itself and the men are happy to show us the place and try to explain their faith in sign language. They confirm that they profess Islam, but they accept other religions and everyone is equal to them.
It is still thundering, raining torrentially and the cascade of water flows down. We wait. An elderly man at my grandfather's age, who treats us with sweets, seems to be the keeper of the place. He bustle, correct everything so that it is in perfect order. He moves the rug, cleans chairs, smooths the tablecloth… The younger one is more talkative. He asks where we have accommodation and suggests us the famous hotel "Panorama". Famous because it is not the first time we hear about it. We do not want to say that we are going to sleep under our tent at the top of the mountain, so we just mention we will look for something when we get there.
It is getting late and there is not a lot of time before it gets dark. The man wants to help us thinking that we have nowhere to go. We are misunderstood because we just want to chat, but he wants to help. He calls the son of an elderly gentleman, who speaks English. Łukasz assures him that everything is fine and we have a place to sleep, just wanted to chat. When the storm subsides and we slowly prepare to set off, the men come out with us, close the gate and the mentioned son comes over. He runs a travel agency and guesthouse, and invites us for a free night stay with his family! According to Kanuna, the medieval set of laws they use, "the Albanian house belongs to God and the guest." We politely refuse and promise to mention him to friends looking for accommodation in Krujës. Then finally, we move to the top.
We are indeed late again, but I get the reflection that nothing happens without a reason. Thanks to traffic and forced break in Tirana I do not know where the storm would catch us. Instead we were able to wait the storm out in a safe place with interesting people.
It is already completely dark when we find a beautiful place on the top of the mountain with a view of the flickering lights of the cities of Krujës and Tirana. It drizzles. Sometimes black clouds light up with the lightning. We cannot see the lightning itself, only the whole sky shines for a fraction of a second revealing the shape of the clouds. Unfortunately, we cannot take photos because of more and more rain. First time on this trip, it is going to be a chilly night.
Day 12. 03/09
We wake up like every day, around 6 am. Although we do not have to run away early and we have time, probably our biological clocks have already recorded their favourite time to get up. In contrast to every day, the morning is cold and our clothes are damp.
After a delicious breakfast, as usually porridge with fresh fruit and nuts, we hit the road. Not much later we turn into a mountain road – SH37. The beginning is difficult because of the large loose stones. After a while, we stop and Łukasz let the air out of the tyres. What a difference! I did not expect that dropping the pressure in the tyres can change handling of a bike so much. We agree that motorbikes felt like a wood log and it shook us in all directions. And now we can say that motorcycles glide over mountainous terrain. The road climbs up with many 180-degree turns, then falls down. Despite this and loose stones, it is easier than yesterday.
I am glad I have a "personal GPS" riding in front of me and informing me about the exact location of holes, gaps, chasms, stones, rivers, etc. At one point Łukasz tells me that sharp turns finish and there will be long straight road… And here we lose contact. We rather are not far from each other (our intercoms have a range of up to a kilometre), but the bends and densely growing trees interfere the signal. Anyway, I move on. It has been a while and the long straight is still not visible. No way we were so far apart… Oh! I catch contact with Łukasz again! He probably decided to wait for me and is somewhere nearby. The trees thin out, I go out from among them into the open space and suddenly I can hear Łukasz's surprise. I look around and … see him standing on the opposite hillside! We are divided by a huge valley! That is why we hear so well because no obstacle between us interferes with the signal.
We realise that I have chosen the wrong path at the fork junction. The concept of the main road for me and Łukasz (and GPS) differed so much that we chose other directions. It is good that we realised it now, not in the evening, haha! I turn over and slowly come back. Even the passing driver shows me the location of my husband. Phew, we meet again!
The further road is not much easier, but we get used to it and have fun. Erm, let me say this, Łukasz is in the seventh heaven from the beginning, I am a bit later. 😉 It is not that funny when Łukasz hooks on sharp, protruding rocks and tears the pannier. Fortunately, this is just an extra pocket that can be sewn, not the main bag.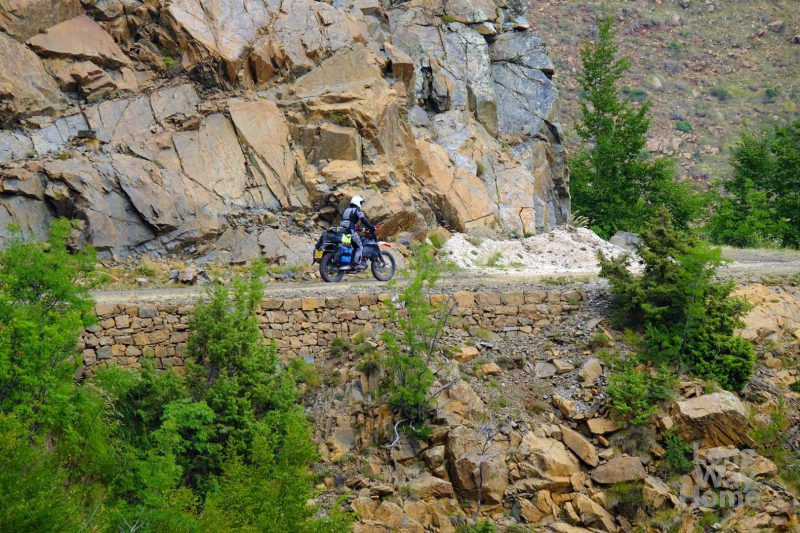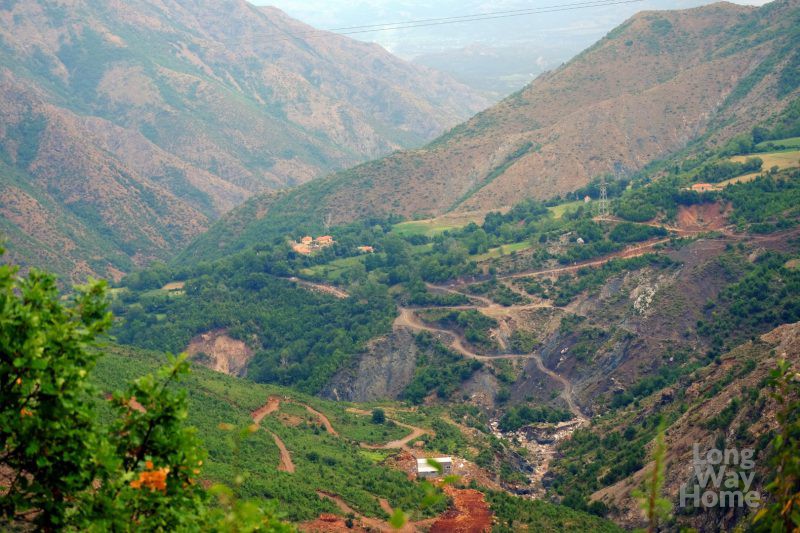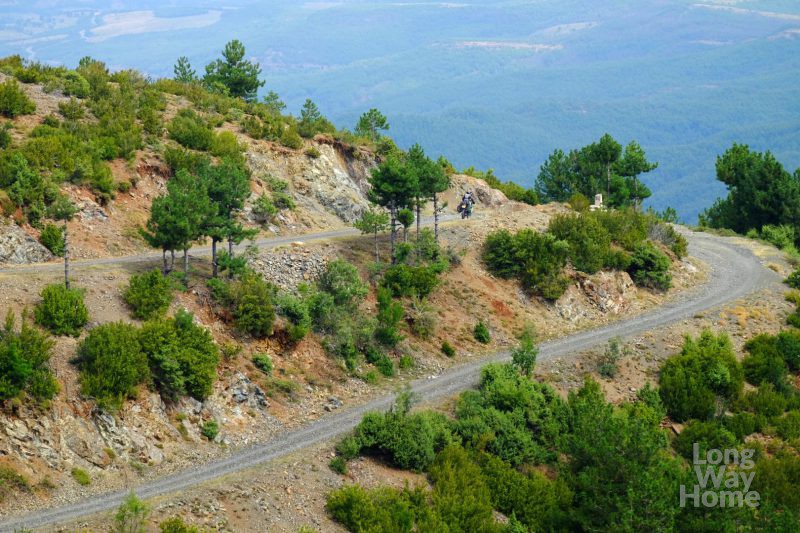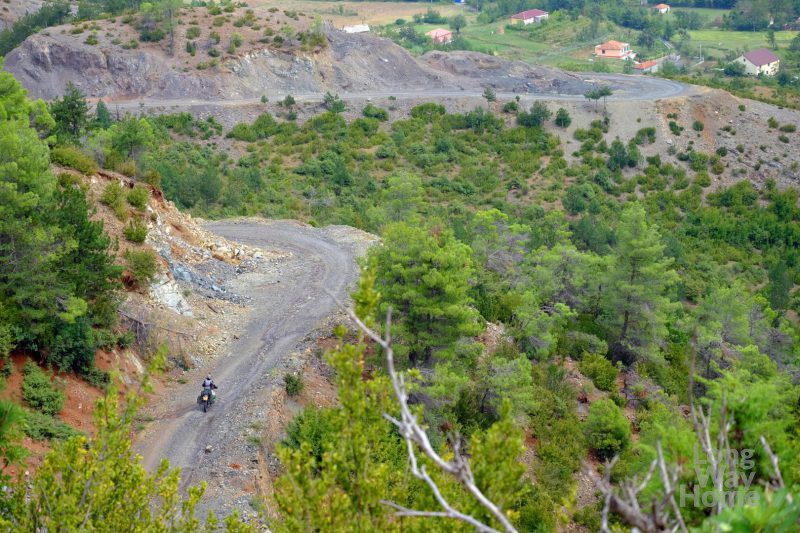 After leaving the mountains, we stop to inflate the tyres and a boy on a pushbike quickly catches up. He watches with interest what we do and wants to help us. We put him on a motorcycle, so he has fun and then shows us some tricks on his bike. After this short time spent together, we give him a high five, say goodbye and when we leave, the boy is waving for a while.
Not only him, but the rest of the children in the next town of Burrel are outdoors. They kick a ball, play hopscotch, jump rope or play tag. Adults sit on the walls and watch life going on. The unpopular Internet does not involve them yet. The world slows down and reminds me of our old times in Poland.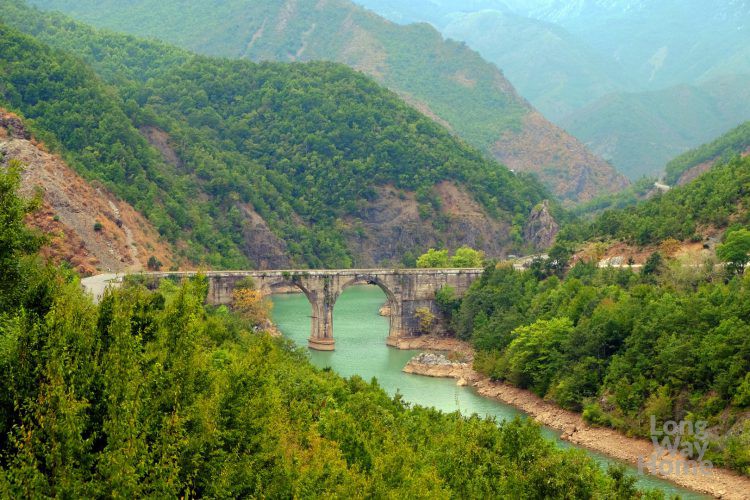 In the afternoon we reach Shkodër, where we stop by the river with a view of the hill with the ruins of Rozafa Castle. A mosque stands nearby and from time to time we can hear the call for Muslims to pray. The river has a strong current, so we jump into the water, let ourselves be carried away and a moment later we go out. We play so several times. After a brisk and refreshing bath, we relax on the shore, then cook a balanced dinner and wash clothes.
Every now and then, local elderly men come on bicycles or mopeds, walk a few kilometres barefoot on a gravel path running along the river, then jump into the water, wash and drive away. From one of them, we learn that this form of activity is very popular here and allows them to maintain their health. We talk to the newly met person for a moment and he asks us how we found this place. It is a good question because we are almost in the city and so cleverly hidden that hardly anyone appears here. You have to get here through dirt roads, so only locals should know this paradise.
When the water level drops significantly, dusk falls and everyone says goodbye, we pitch a tent and light a campfire. Unfortunately, we do not have sausages with us, but we do not need them to create a pleasant holiday atmosphere and enjoy it until the end of the day.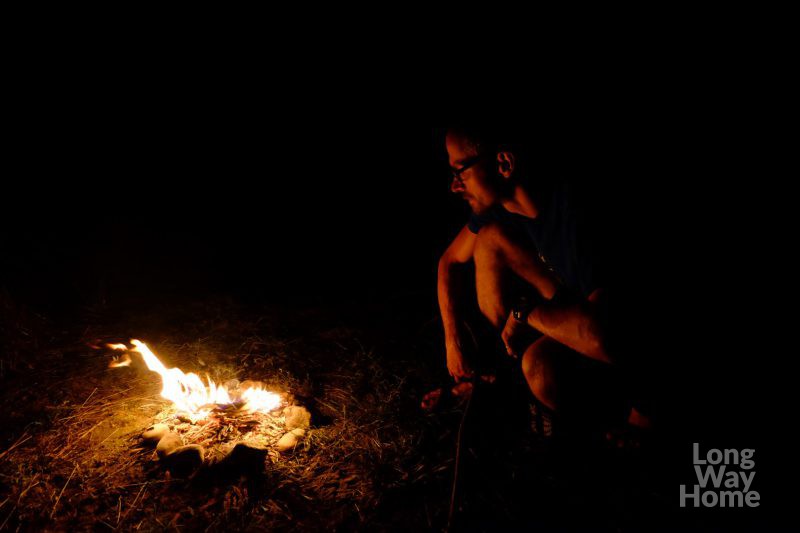 Day 13. 04/09
We are woken by a cloudy and not as hot day as usual. We set off into the Albanian cursed mountains to the Theth village. Route SH21 first leads through a very narrow, but tarmac road, in the bottom of the valley surrounded by dense beech and coniferous forests. Next, it starts to wind and climb upwards with horribly shaped bends. In a very short time, we reach a height of 1800 metres and reach the Qafa e Thorёs Pass. Here the tarmac ends and we pass a construction team with two bulldozers. Local council want to lay the asphalt all the way to the village within next 10 months. It is the last call if someone wants to see the wildland! The last 17 kilometres turn into a gravel road, not that steep, but still with sharp turns. Initially, we ride very stiffly, but when we release some air from the tyres, the wheels catch the traction again and motorcycles dance softly.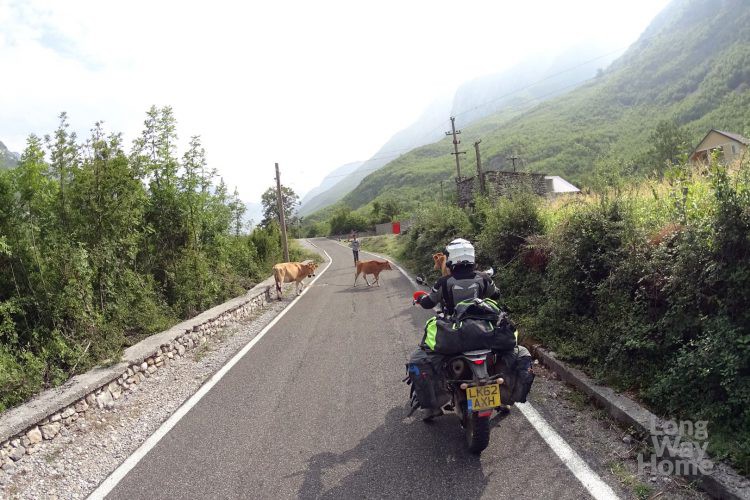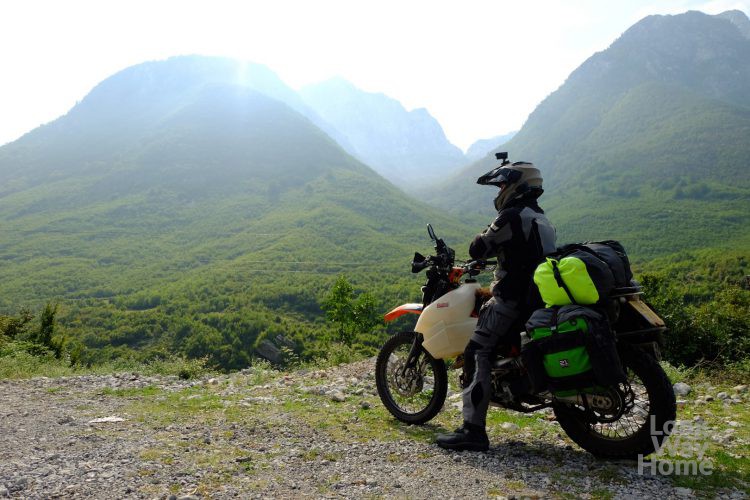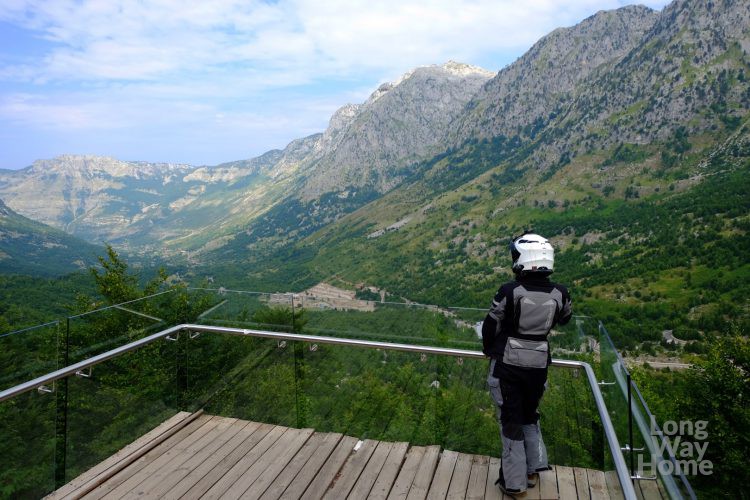 Theth, a beautiful village lying 700 metres above sea level, is surrounded by the rocky peaks of the damned mountains. The mountain river Theitit (alb. Luni and Thethit) with crystal clear water flows swiftly through the middle of the valley. The hamlet is still one of the most isolated in Europe, and its population does not exceed 80 people. Currently, the place becomes more and more commercialised and we can already see that every second building offers more or less luxurious accommodation, mountain guides announce their services and even a tourist centre has been created.
The sky has cleared up and its blue colour highlights the raw beauty of the mountains above our heads. We spend time enjoying nature, walking around the village, listening to the noise of the stream and talking to the met Rafał – a motorcyclist on KTM 990 Adventure.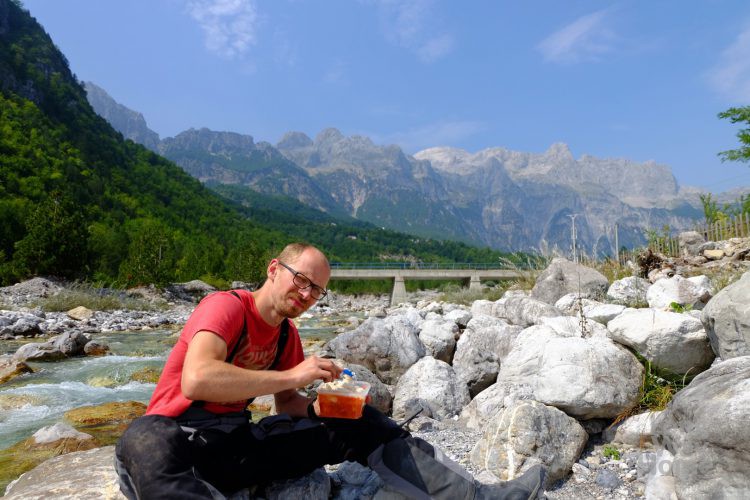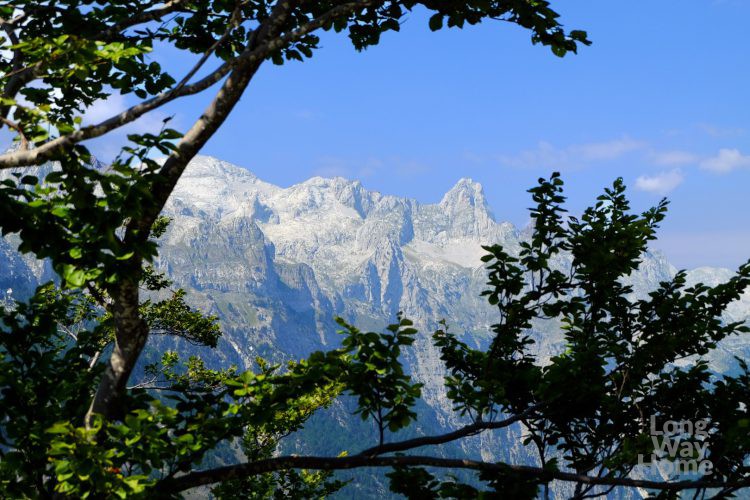 In the afternoon we set off back. In both directions, we pass quite a lot of vehicles, not just off-road ones. Passenger cars or even sports motorcycles also do well. Sometimes stains on the ground suggest that the oil pan has been hit, but with caution, most reach the place unscathed. We have a technical advantage and we go through this section quite dynamically. It is very pleasant, easy to ride and we are glad that asphalt does not lie here yet. At some point, it seems to be too easy, because Łukasz decides to turn more aggressively using a small hill on the sharp turn. Something goes wrong and the motorcycle throws itself and Łukasz in all directions until it falls over. Or maybe Łukasz jumps off the motorcycle. Anyway, the action happens dynamically. Someone comes from the opposite direction and help him lift it up. Luckily nothing serious has happened!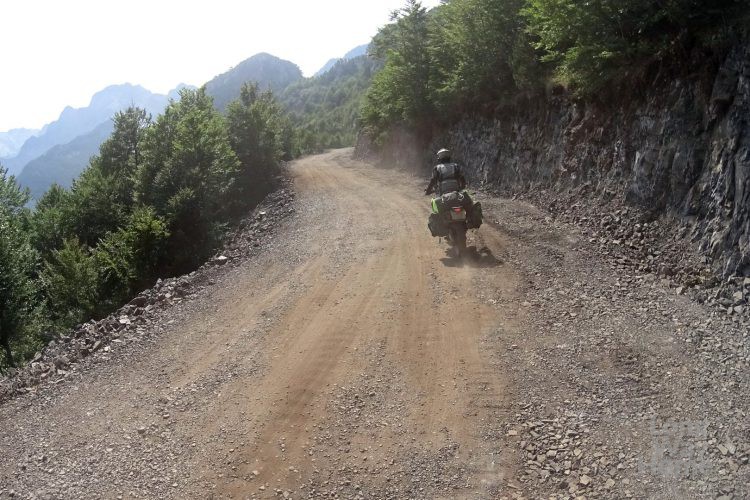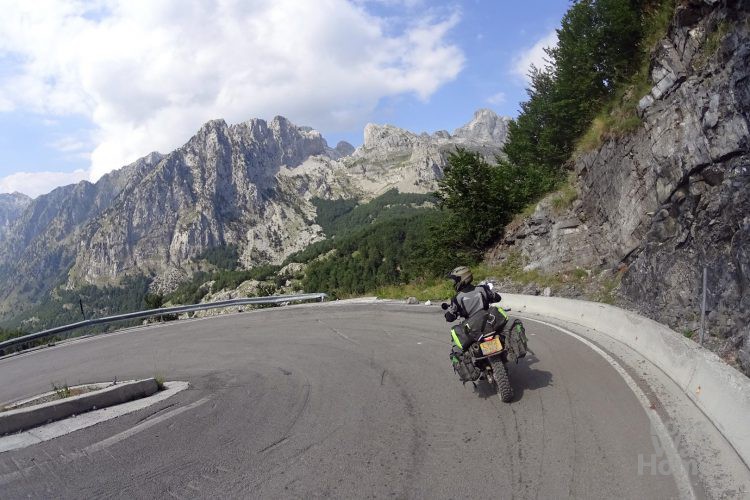 We descend to the valley, and then again we climb into the Albanian Alps. But this time we ride a completely different road – SH20 renovated in May 2015 and as flat as a pancake. The route is very scenic, full of observation decks and points, where we can stop for contemplation and pics. The landscape transforms into a very similar one that we know from Montenegro. Probably because we are in the same mountain range. 😉 Anyway, tomorrow we will be on the other side of the border, but today we pitch a tent on some flat place. Bushes of fresh and sweet blackberries grow around us! We fill the whole pot – they will be for dinner and breakfast. In the meantime, a herd of goats roll through us eating as much as possible on their way. They seem not to be interested in us.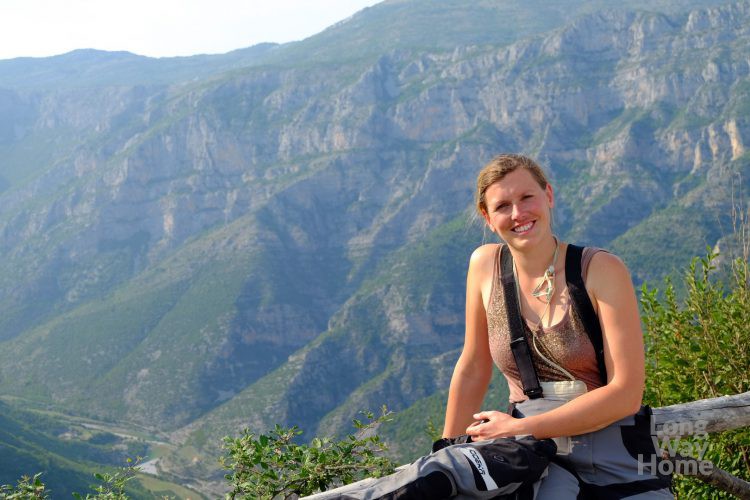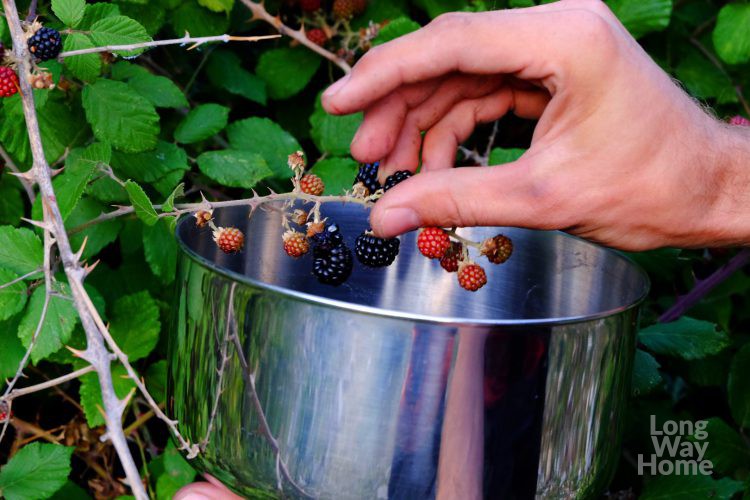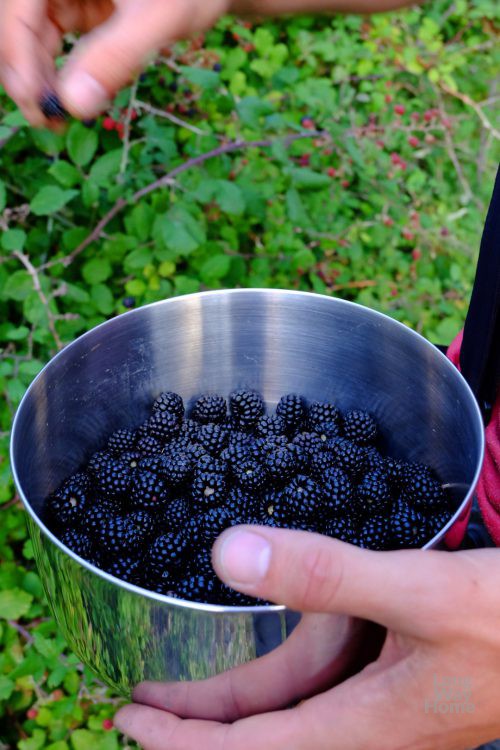 In the late evening, a very strong wind picks up, so we secure the flaps of the tent with stones. There are plenty of them in the area. We get inside and fall asleep to the accompaniment of ominous sounds.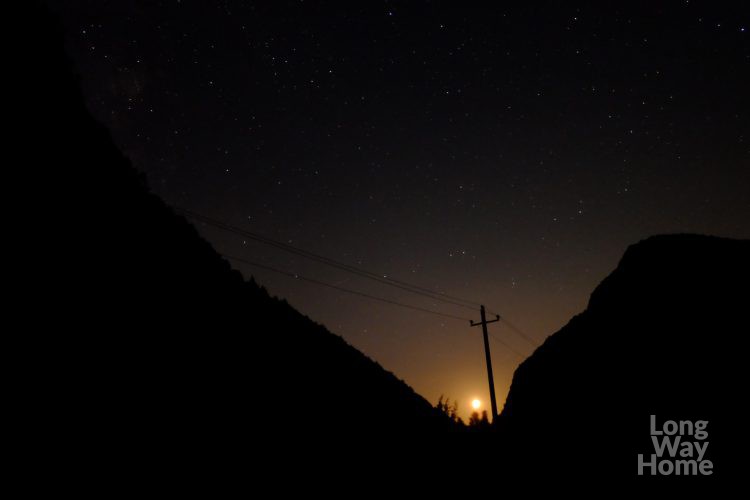 Day 14. 05/09
A strong wind did not give peace all night, but in the morning it calms down. Today nature serves us breakfast – blackberries straight from the bush! Yum!
Today we will cross 2 borders. In a moment we will enter Montenegro and later Serbia.
Departure from Albania goes very fast. The custom officer takes passports, enters data into the computer, sticks a stamp and we are free. Entering Montenegro takes us more time. This is not a matter of queue, because there is only one car ahead of us, but lack of the green card. We hoped that we would buy insurance at the border, as before. But the small border crossing is in the mountains and probably the business does not pay here. When we tell the guard we do not have a green card, he  responds using just one word: "problem." And because he is very nice, he calls the insurer, who arrives after 15 minutes and sells us insurance. Although we will spend only half a day in Montenegro, the minimum insurance period is 15 days.
Before the insurer arrives, the guard makes the waiting time pleasant by giving us chairs. We chat in Polish-Croatian with policemen and a customs officer stationed here. One of them tells us his love story. A few years back he met a Polish woman – a neurosurgeon who was returning from a mission in Asian countries. She arrived late in Albania and had to rest before continuing, but had nowhere to go. Our hero organised her accommodation and offered the keys to his parents' home. She was very grateful and promised to return help so they exchanged contacts. He wrote to her several times, asking how and where she was, if she was happy, but no answer came, only deaf silence.
We go to Serbia. GPS navigations offer us several alternative routes and we choose the Google Maps route which is a bit longer but does not lead main roads. It should be scenic, beautiful and peaceful. From the busy road, we turn into a smaller one heavily riddled by time, pass small towns, then smaller villages. Tarmac narrows to the width of one car, buildings appear less and less often and we enter mountainous terrain. Tarmac… ends and we follow a gravel road and then a dirt road! Farmland stretches along the path and animals graze. We pass a farmer driving a tractor with an attached machine, which he will probably use soon. Łukasz is not afraid to approach the abyss and efficiently overtakes the tractor with a narrow corridor between the deep hole and the edge. And I get stuck in this hole and struggle with it for a long time. Fortunately, the farmer has a lot of time and laughing, patiently waits for me to pass. We have already moved away, the path changes into rough terrain.
We come up on the pass a kilometre before Serbia and in front of us, we can see the same fields as earlier. Hello, where is the border crossing? It is amazing how sometimes the borders of countries are invisible. Usually, characteristic geographical elements such as a river or a mountain range are used to determine them. But here nothing special appears. No special signs in the sky, or any other colour of the ground, or any barrier in the air. Earth is still earth and heaven is still heaven.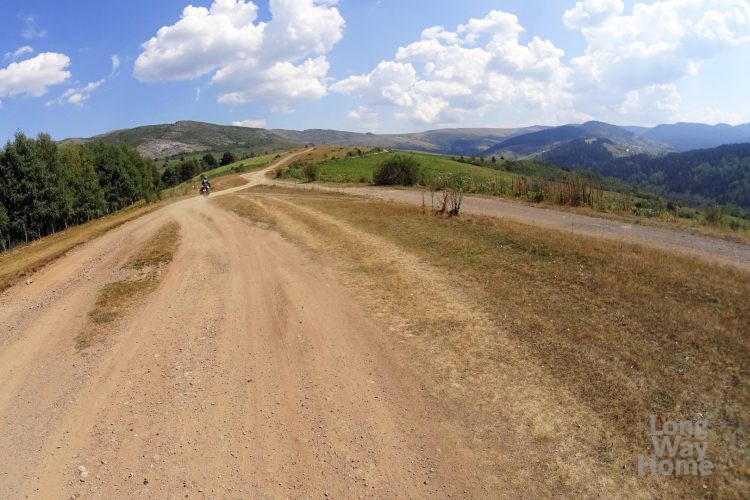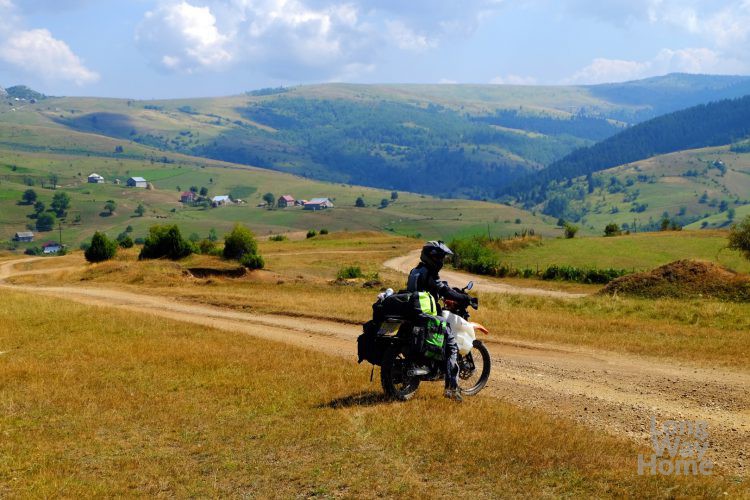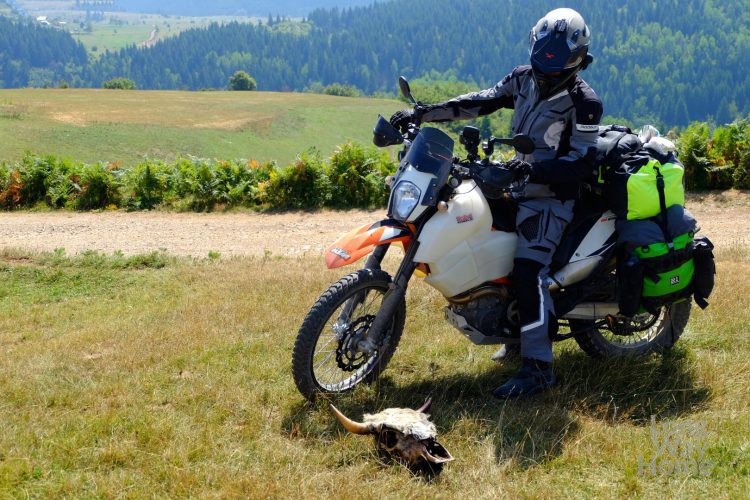 We decide to retreat. It turns out that Google Maps is not unerring and does not always show the right directions. There is no physical border crossing here, and we will need an entry stamp in our passports to leave Serbia. We find another place to cross the border in the north from us. The app shows that they only let locals pass and tourists cannot go there. However, we take chances, because the next legal crossing point is muuuch farther. Before we return, we have a break on the last pass before Serbia in the wonderful scenery. My motorcycle has to cool down because the engine temperature has reached a critical value as a result of a slow ride in the rough terrain and riding up steep climbs. We rest and eat sweet rice – with the blackberries gathered yesterday.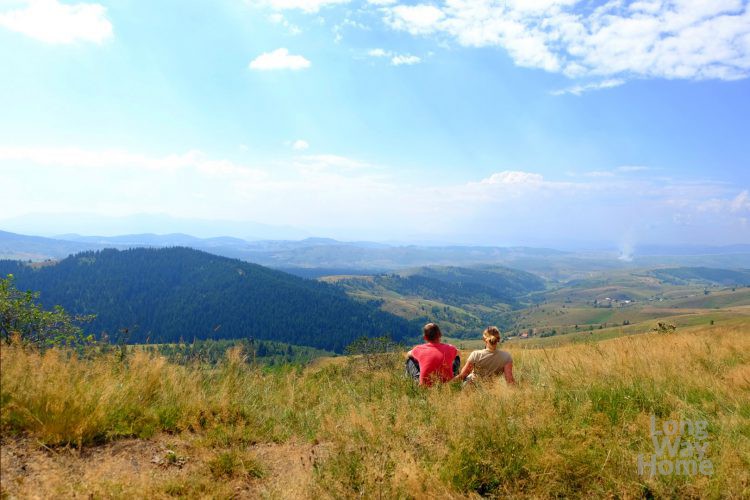 On the next border, everything is fine and we can cross it! When we leave, we wait for three minutes, three kilometres further we enter Serbia after two minutes of formalities. This is another border where motorbikes can go without queuing. I do not know if this is normal. Of course, every country can be different.
The last stretch of today's road is great. The road leading through the alpine meadows is new, the tarmac is flat, not so slippery, and the curves are mild. We smoothly and lightly overcome perfectly shaped turns, gently balancing and moving body weight.
We arrive at the Uvac nature reserve. After the town of Sjenica, we look for a spot by the water recommended to us earlier. To get there, firstly we gently climb a gravel road and look down on the buildings along the riverside. There are several steep descents with loose stones. We are not sure which one to choose, so we stop for a moment to explore the area. And after a while, in the distance, we notice a woman in a bright T-shirt, who vigorously waves and invites us to come. After reaching her, she shows us where to leave the motorbikes and immediately hugs and kisses us. This is how we get to know Slavica – a very direct and open Serbian lady about 60 who manages this place.
We can pitch a tent for free however she has her own pub here and, of course, encourages us to try her delicacies. We will never regret it. It is really delicious and the portions are far too big to be eaten. Everything is fresh, local and made by her own. Veal, fried potatoes with herbs cut into French fries, warm Pogačice bread, grilled pepper and zucchini, tomatoes, local salty white cheese, and local beer land on the table only for the two of us. And when we are really full, Slavica prepares us a buckwheat pancake with Nutella for dessert. If we manage to digest it until morning, we will probably be tempted to eat no less delicious breakfast.
In the meantime, other feasters from the area appear. The atmosphere is great, they are very open and give the impression that everyone knows each other. A few drinks later, they get back home. Only we and a couple of Slovakians stay for the night.
Slavica shows us around her area (she leases this land for her business) and presents the restrooms – those opened and those closed due to the filled holes dug in the ground. You can use the shower whenever you bring river water and fill a container attached above your head. A tube with a valve is connected to it and after turning it on, water flows through a sieve with the help of gravity. The stove in her field kitchen where she prepares all the delicacies is wood-fired. No amenities reach here, only the solar panels provide the light.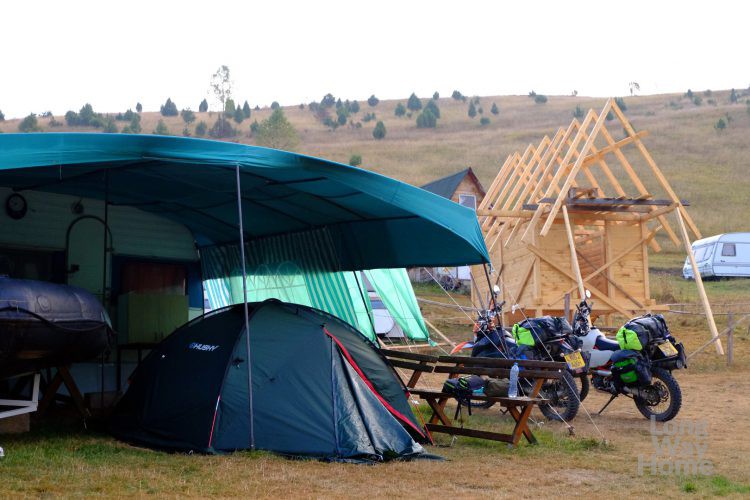 We are about to go to sleep, but Slavica's volcano of energy does not seem to go out at all. She brings out a file of her photos, brochures, leaflets, notes, guest book and begins to tell us stories. About herself, her life, family, about her history, past, plans, business, and hour after hour passes. When there are no more photos and it seems that this is the end of the story, our new friend puts out her phone and shows us more photos on her Instagram! We would love to stay and chat, but we are getting tired and we have to stop it. We go to the tent and plan to sleep as long as possible.
Day 15. 06/09
The plan was unsuccessful and our brains are active early in the morning. However, Łukasz did not rest at all, because he stayed awake all night. He heard an animal growling in the area and sniffing our tent, so he watched with a self-defence tool – a tyre lever. A bear? A fox? It turned out that the owner's dogs were playing with the tent and wanted to go inside.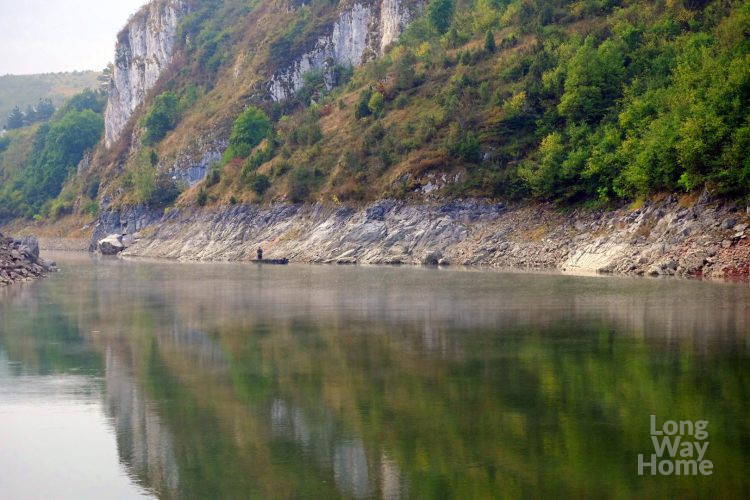 The morning is curled by the mist rising above the water and covering the entire valley. Slavica vigorously bustles around the area. Because I got up before she started breakfast preperation, I get a private Serbian food cooking course! Early to bed and early to rise makes a man healthy, wealthy and wise! 😉 After heating the oven up, we prepare breakfast only for the three of us, but I have the impression that it is for the entire football team. We prepare fried eggs surrounded by heart-shaped sausages (how romantic!), local yeast rolls, black pudding omelette and soup with dumplings. Also, we have a kajmak made by Slavica (a salty cream a bit similar to butter, apparently made from milk skin, although its taste and texture definitely does not resemble them), chokeberry and plum jam and fresh cow's milk. Łukasz has coffee and I have tea. Everything is amazingly delicious and… oily! We do not recommend it to people on a diet. 😉 We have wide smiles, full bellies and we will certainly not get hungry until the evening.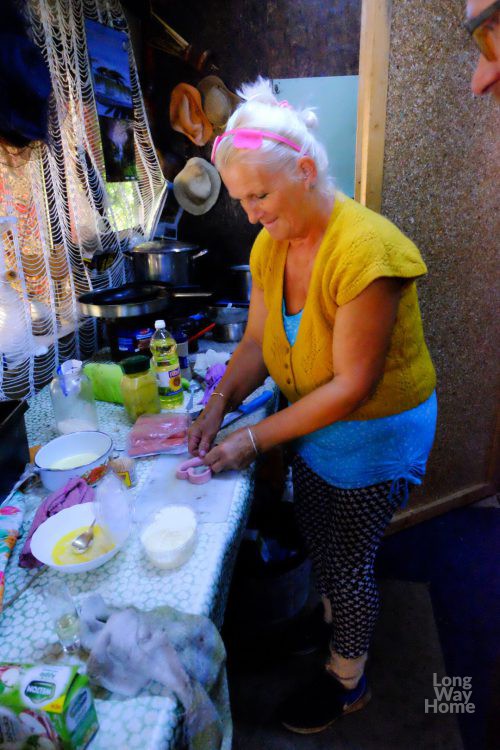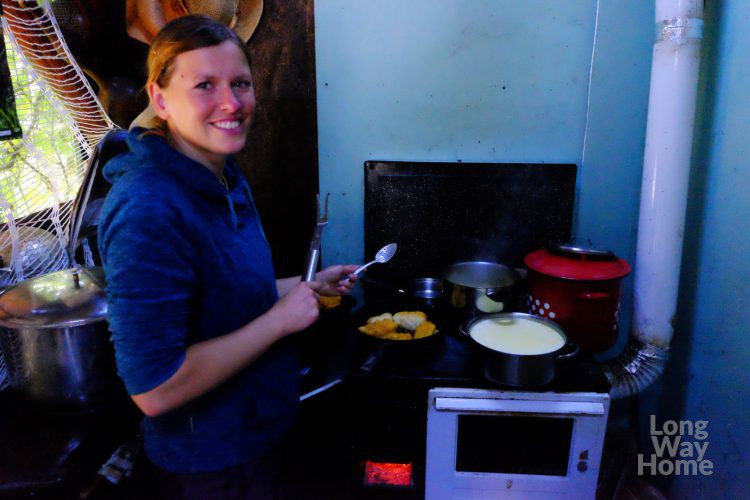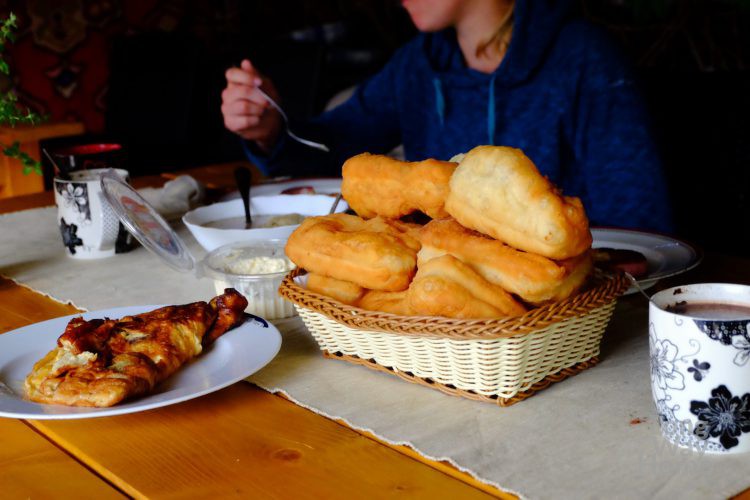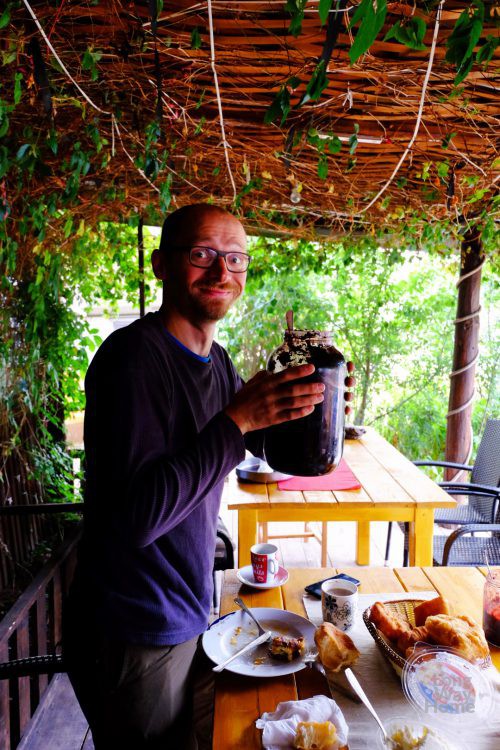 Breakfast passes in a relaxing, chatting atmosphere. Later Slavica does her own business and we rent kayaks. We sail a river that meanders sharply and after every turn next one shows up immediately , so our eyesight does not reach far. On the way back Łukasz jumps into the water, and I join him after we moor the kayaks. The day is not hot, but it is still nice to cool in the water. When we dry, pack and prepare ourselves for a further journey, the hostess, an elegant lady with smudged rose lipstick on her lips and lightly glued together from mascara eyelashes, asks me about my cosmetics and is so surprised that I only have cream! Mind you, a real lady does not want to neglect her beauty. 😉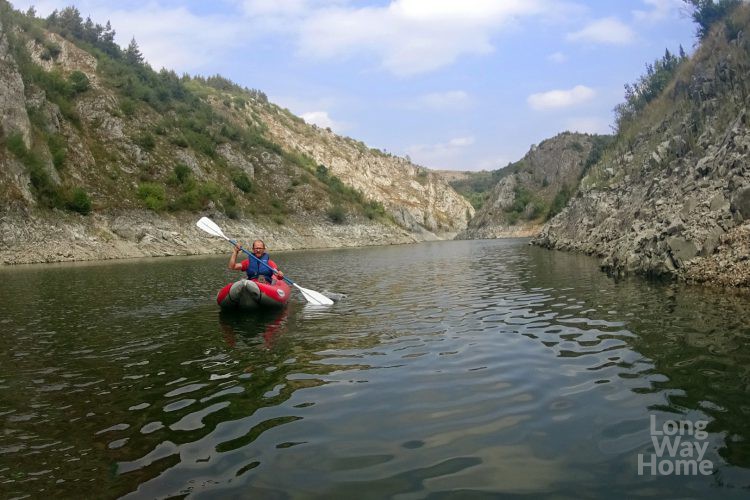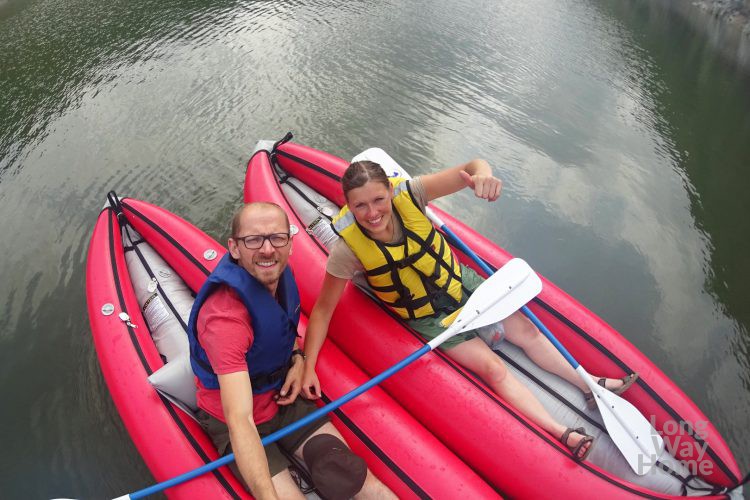 Slavica recommends us to stop at the nearby Molitva viewpoint. From here, the river with intense greenish colour, in all its splendour winds with sharp 180-degree turns. In fact, the river is an artificial lake Sjeničko, which was formed after the creation of the dam. The reserve was established in 1994 to protect the dying out species of a griffon vulture. Currently, the number of white-headed predators has increased. We admire the huge hunting birds soaring up quickly and gaining height without moving the wings. It is thermals that carry them up. Their wingspan impresses many.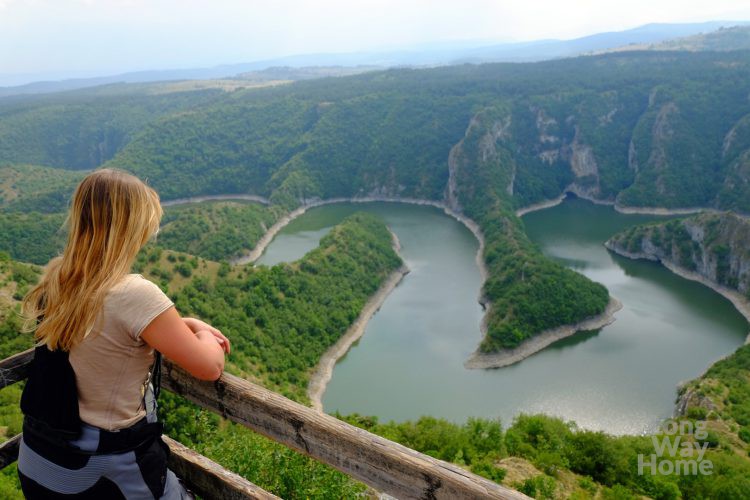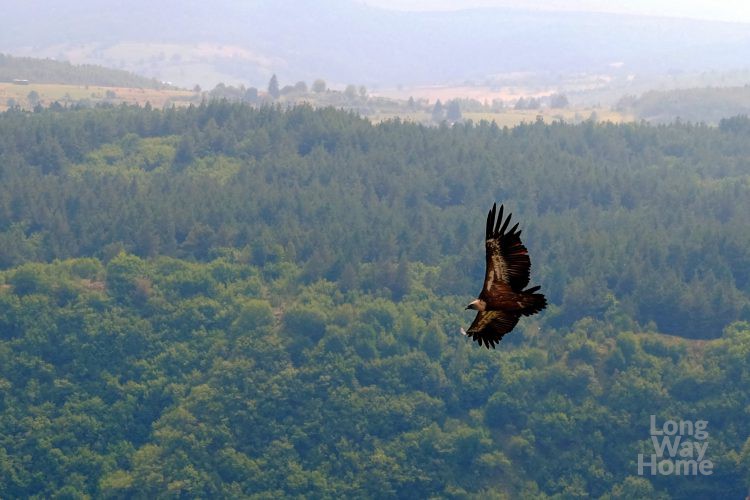 We return to motorbikes and we meet Israelis who have been wandering for several hours without water! Fortunately, we have replenished our supplies, so we are happy to share with them. We chat for a while and they tell us that during trekking they saw two slowly moving red spots on the river. It was us on kayaks! And now we all meet at the top, although everyone has arrived here in a different way and at a different pace.
The race against time begins. A strong wind rises, flashes of lightning appear above us and we can hear the distant thunder… We must escape before a real storm catches us! The first drops of rain appear on our visors, but we do not take waterproof cloths on. After several dozen minutes of riding, it seems we have run away, although dark grey clouds still hang nearby, but not directly above us. We stop at the petrol station, fill the fuel tank and as soon as we decide to have a break, it starts raining again! The cloud was moving in the same direction and caught up with us! Ops, we are off again! In the evening, when we are already far from the rain, before Belgrade we find a small, peaceful meadow with a mountains view. Only one volcanic mountain where you can climb rises above us.
We pitch a tent and now we eat the first meal since breakfast: rolls with a jam that Slavica gave us for our ride. And then we fall asleep quickly.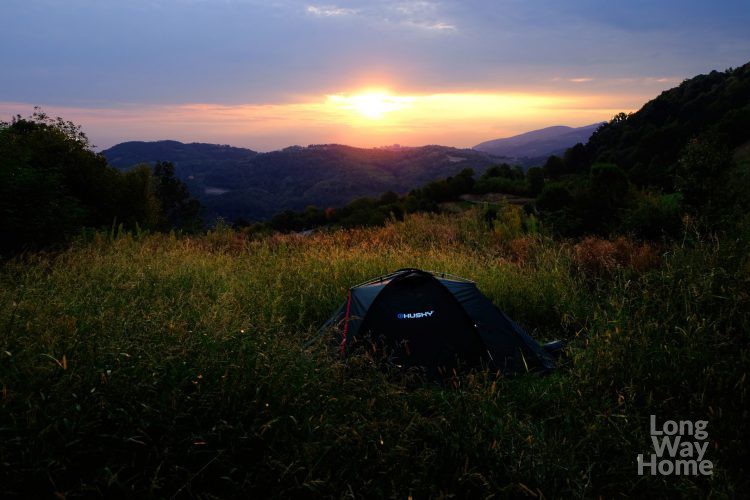 Day 16. 07/09
The sunrise wakes us up. We eat breakfast unhurriedly and pack up for the journey. We plan to get to Budapest and sightsee it in the evening and next day morning. Last time we were there, it was raining so badly that we could not discover it. Maybe today and tomorrow we will be lucky. Because we do not plan to explore anything along the way, we decide to ride the new motorway, which is cheap and save us 2 hours. Łukasz decides to check if sheepskin really rescued our arses and does not put it on today to verify if there is any difference.
Along the motorway, policemen stand every few hundred meters and at every junction. We also overtake the police bus dropping them off from time to time. We arrive at a gas station to fill the bikes and eat something, but one of the policemen approaches us and talks briskly. When he sees our confused faces, just says: "you go!" and takes us away. Same with everyone else. It turns out that they block a certain section of the motorway. We do not know why, but we suppose that some VIP will go. The motorway is empty and we seem to be one of its last users. A few exits further, everything returns back to normal.
We cross the Serbian-Hungarian border on the motorway. Car traffic stretches kilometres. People have their door open, walk between cars, meet in small groups and discuss familiar topics, go out for a cigarette and try to cut waiting time in various other ways. How great is to travel by motorcycle in this case. We go between cars and politely park close to the border crossing. And the guard, after noticing us, waves us to ride straight out of the queue. The cars are filled to the roof with holiday items, others are almost empty and others are full of people, but everyone must open the boot and show the customs officer what they carry. Some are searched very carefully, others only briefly. We were asked about the possession of cigarettes and alcohol. We confessed to one litre of pear liqueur and we did not even have to open the bags. Crossing borders like this is a pure pleasure.
Just abroad, a huge black cloud grows stronger. This time we have no way to escape the storm, so at least we can test our motorcycle clothes. When we finish the tedious process of putting waterproof parts on, it already begins to sprinkle. And a moment later we enter the very centre of the downpour! Fortunately, 30 kilometres later we are already on the other side of the cloud and it calms down. Clothes tested and… unfortunately failed.
In Budapest, we reach the campsite, unpack quickly, get changed and go to the town centre! 😉 We get lost a bit and are directed by a kind Persian lady. Although she did not have to and despite her poor English, she was not afraid to approach and explain us the way to the centre. She also tells a little about herself that she came from Iran 20 years ago and life in Hungary is much better for her (I am not surprised). Before we start exploring, we fancy Hungarian delicacies. We sit in a local tavern, devour stew and in the meantime, it starts raining for good. It's raining cats and dogs! But despite this, we go for a short walk to see at least a piece of the centre. Besides, I realised I left my motorcycle pants outside the tent to dry them out… Fortunately, Łukasz calls reception and the lady agreed to look after them. We come back to the tent completely soaked! Time for drying and sleeping. I am afraid that tomorrow we will have a wet ride to Krakow…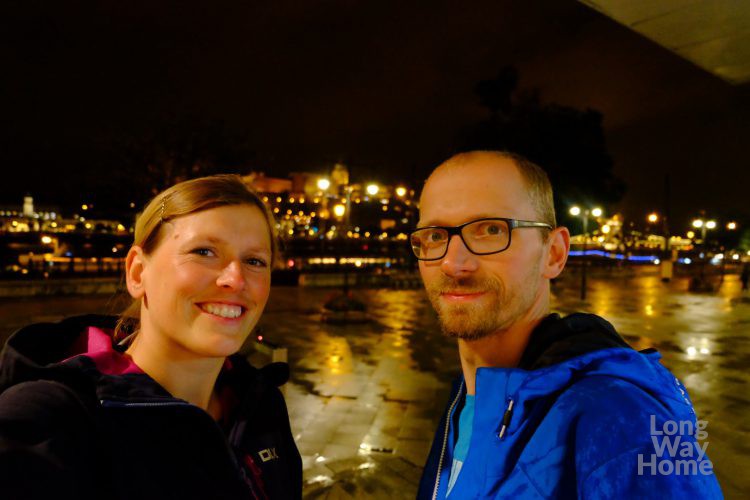 Day 17. 08/09
The completely dried motorcycle pants wait for me in a warm reception! Great! But probably they will get wet soon looking at the weather forecasts. There is nothing to explore, because it will pour down again soon, and then it will only get worse. So while we have a chance for smaller rains, we head towards home. Łukasz's bottom hurts more, so the sheepskin really protected a bit and it returns to its place.
We move quite fast. Black clouds accompany us all the way. Dense fog and sticky moisture shroud the Slovak mountains. It is grey and gloomy. But… we ride the entire route without rain! We are very lucky because all the forecasts indicated something completely different. It seems that we chose the perfect time to leave Hungary and somehow manoeuvred between the rainfall.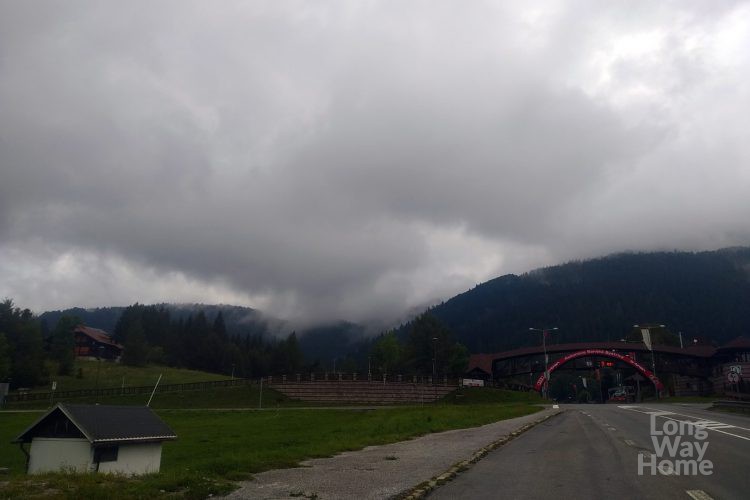 We arrive home in the evening and are warmly welcomed by grandparents. The meter shows 5500 kilometres done. Somewhere earlier I realised that this was my first such a long journey alone on my motorcycle. Until now, we travelled on one bike and we swapped. But rather nothing will beat the length of the next trip…
More photos can be found in our gallery and below we invite you to the second part of the Eurotrip movie.